We all know the slogan "Amul doodh peeta hai india" but have you ever wondered how this slogan got into our minds? Don't worry today we will go thoroughly in the marketing strategy of amul.
Amul History
| | |
| --- | --- |
| Legal Name | Amul Dairy |
| Founder Name | Shri Tribhuvandas Patel |
| Industry | Dairy |
| Headquarters | Anand, Gujarat, India |
| Revenue | $9 billion (2022) |
| Funding | $48.3M |
| Number of Employees | 350,000 |
| Founding Year | 1946 |
Anand Milk Union Limited, commonly known as Amul, stands as a leading brand that has gained household recognition in India for many decades. Established in 1946, Amul works as a co-operative society and has achieved remarkable success in marketing a wide range of dairy products across the country. From milk to butter, cheese and ice cream, Amul boasts of a wide product portfolio to cater to the diverse tastes and preferences of its esteemed customers. Notably, Amul continues to hold the leading position in the dairy products market. Remarkable, isn't it?

While some brands have enjoyed success for a long time, only a select few manage to truly capture our hearts, and Amul is undoubtedly one brand that has left an indelible mark on our collective consciousness.
How did Amul achieve this remarkable feat?
The answer lies in the superior quality of Amul products, their unwavering commitment to innovation and, undoubtedly, their ingenious marketing strategies that have propelled the brand to the forefront of the market. Known for its humor and catchiness, Amul's advertisements have impressed consumers and have been instrumental in fostering a dedicated customer base.
Even facing the challenges posed by the COVID-19-induced lockdown, which disrupted the marketing plans and revenues of many companies, Amul not only survived but thrived and achieved a remarkable turnover of Rs 53,000 crore. Additionally, the brand expanded its product offering by introducing 60 new items in its portfolio, while also contributing Rs 800 crore to support rural farmers.
As we step into 2022, Amul aims to achieve a turnover of Rs 60,000 crore and has ambitious plans to reach the coveted milestone of Rs 1 lakh crore in sales by 2025. This determination and commitment to excellence is a testament to the sustainability of Amul. story of success.
Amul's Journey to Success
Amul, also known as the Gujarat Cooperative Milk Marketing Federation (GCMMF), has etched an inspiring saga of success since its inception in 1946 in Gujarat, India.
The driving force behind this cooperative venture was none other than the eminent social activist and freedom fighter, Sardar Vallabhbhai Patel. His visionary belief in the power of cooperative societies to empower farmers by ensuring fair compensation for their milk laid the foundation for this remarkable journey. In its nascent stage, the cooperative comprised a mere two village-level societies and a modest daily yield of 250 liters of milk. Its mission was clear: to secure equitable returns for farmers' milk and to stimulate the production and consumption of milk and its derivatives across India.
Today, Amul stands tall as one of India's most triumphant dairy brands, boasting a staggering turnover exceeding $7 billion and a global presence spanning over 60 countries. The cooperative society has played an instrumental role in elevating the lives of farmers, granting them just compensation for their milk and elevating their quality of life. This journey from humble beginnings to global prominence exemplifies the transformative power of cooperative spirit and unwavering dedication to the betterment of lives and communities.
Amul Marketing Strategies [Detailed]
At the root of Amul's stupendous success is its carefully crafted marketing strategy, which has maintained a consistent connect with consumers. Let us look into the intricacies of Amul's marketing capability:
1. Branding as 'The Taste of India':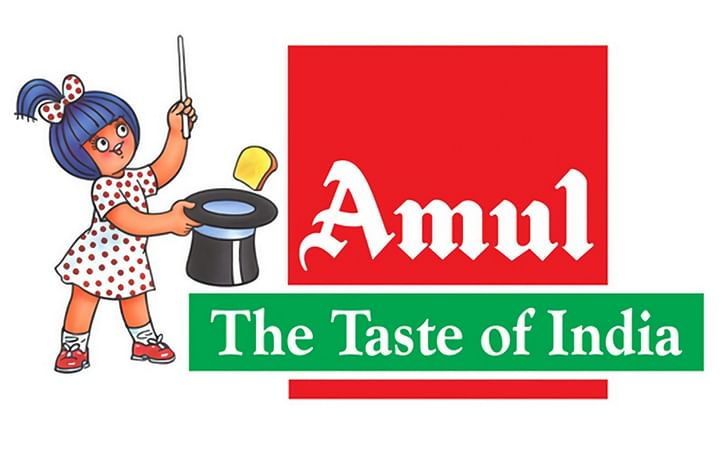 Amul's branding strategy is nothing less than a win. The tagline "Taste of India" not only symbolizes the brand's commitment to providing authentic and delicious dairy products, but also serves as a powerful statement of cultural pride. This simple yet profound tagline effectively dispelled the notion that staple foods like bread and butter were exclusively British, and associated them with the flavors and heritage of India. In doing so, Amul not only provided quality products but also instilled a sense of nationalism among consumers by creating a deep emotional connection.
2. Iconic Amul Girl as mascot:
The cornerstone of Amul's marketing genius is the iconic Amul Girl. This timeless character with her polka-dotted dress, blue hair and orange face has become synonymous with the brand. The Amul girl takes center stage in cartoons that intelligently comment on current events, sports and social issues in a humorous and satirical manner. Apart from being a marketing tool, the Amul Girl has evolved into a symbol of India's rich and diverse culture, bridging the gap between a brand and its consumers. His wit and charm have not only entertained but also endeared and endeared the brand.
3. Unified Brand Name:
Amul's strategic decision to sell all its products under a single name is a testament to the efficiency of the brand. This integration simplifies marketing and advertising efforts, allowing Amul to allocate a significantly smaller percentage (1%) of its revenues to these activities. Such integration not only streamlines branding but also enhances brand identity, ensuring that consumers associate Amul with a wide range of high-quality dairy products.
Amul's product portfolio: an integral part of its marketing strategy
Amul adopts a comprehensive marketing approach, characterized by its iconic Amul Girl campaigns and consistent content marketing efforts, which resonate with its audience.
Another important aspect of Amul's marketing strategy focuses on its diverse product portfolio. In this portfolio, Amul boasts of a wide range of dairy products, which include butter, cheese, milk, ice cream, curd and more. This strategic product diversification ensures that Amul can cater to different age groups, lifestyle and dietary preferences.
For example, Amul addresses the health-conscious demographic with its low-fat and sugar-free ice cream offerings, as well as the younger audience with flavored milk products designed to delight children and teens alike. Is tempting.
While some competitors such as London Dairy and Baskin Robbins have successfully entered select regional ice cream markets to cater to high-end customers, Amul has gained a strong presence in the broader dairy market. However, Amul's primary focus remains on the middle and economic classes. One important factor that has contributed to their unwavering customer loyalty is their shrewd pricing strategy, a topic we'll explore in the following section.
Amul's product variety, carefully designed to meet the needs of a wide consumer base, stands as a testament to their commitment to deliver dairy excellence and underlines the enduring appeal of the brand.
Amul's Low Cost Pricing Strategy: A Key Marketing Element
The third integral element of Amul's marketing strategies revolves around its pricing strategy, a practice that has proven to be one of its most effective promotional tools. Amul has strategically adopted a low-cost pricing strategy, especially for products that are everyday essentials. This pricing approach has not only made Amul's offerings affordable for its target audience, but has also been instrumental in preserving its loyal customer base.
Amul's pricing strategy implemented
Amul's pricing strategy is smartly designed to suit the income level of the consumers. It adapts by adjusting prices proportionally as its audience's income increases, ensuring affordability remains a constant factor. In cases where products face stiff competition, Amul has skillfully implemented competitive pricing strategies such as one-on-one offers to maintain its lead in the market.
Ice cream pattern
One notable product line where this strategy is evident is ice cream. As a co-operative institution, Amul's focus goes beyond mere profitability; It strives to secure the best possible outcome for both producers and consumers. Unlike companies that depend solely on profit margins, Amul constantly strives to balance affordability with quality.
Supply chain benefits
While the logistics and supply chain infrastructure required for an FMCG company can be cost-intensive, Amul defied the odds by providing goods at accessible price points. How did he achieve this feat?
Amul has integrated a well-thought-out logistics and supply chain model into its operations based on a three-tier cooperative structure:
Village-level cooperative societies

: Responsible for milk production.

District-level milk unions

: Operate processing centres.

State-level milk unions

: Handle consolidation and distribution.
This transparent and cooperative model ensured that suppliers, primarily farmers, received maximum returns when prices increased, thereby significantly improving their incomes. Additionally, the cooperative nature of the system facilitated efficient distribution of surplus products to high-demand areas and vice versa, thereby optimizing resources and effectively meeting consumer needs.
Although these factors collectively account for 75% of Amul's success, still 25% have played an important role. The next section explores this important component in the success story of Amul.
Important 25% of Amul's advertising strategy
As we reach the final aspect of Amul's marketing strategy, we are faced with the crucial 25% that Amul's advertising efforts focus on. Without effective advertising, the existence of a product may remain obscure to its intended audience. Amul's remarkable advertising campaigns have played a vital role in shaping its enduring success story, holding the Guinness World Record for the longest running advertising campaign.
The eternally youthful Amul Girl, at the age of twenty-nine, has been a charming and enduring presence throughout this journey. His depictions of butter and timely representations of current events have not only entertained but also educated and engaged consumers. This iconic character has successfully achieved the top position for Amul, making the brand the first thing that comes to mind when thinking of dairy products.
Amul's advertising talent extends beyond its Amul Girl mascot. The brand features a series of memorable taglines like 'Amul Doodh Peeta Hai India,' 'Har Ghar Amul Ghar,' 'Pehla Pyar, Amul Pyar' and many more in its short but impactful ad video. Each ad, whether laced with wit, heartwarming moments or humor, consistently leaves an indelible mark on viewers, eliciting appreciative laughter and warming hearts.
Amul's advertising capabilities extend far beyond promoting products; It has created a cultural heritage. The ability to blend humor, relevance and relevance in its advertisements has not only strengthened its brand image but also made Amul a household name, reputed for its iconic advertising campaigns. This last 25% of their strategy has not only added value; This has registered the presence of Amul in the annals of advertising history.
Amul Girl: The Advertising Icon of Amul
The iconic and beloved mascot of Amul, affectionately known as the 'Amul Girl,' is a charming cartoon character portraying a young Indian girl adorned in a polka-dotted dress, with distinctive blue hair and a half ponytail. The Amul Girl made her debut in the world of advertising with an unforgettable campaign that introduced Amul Butter as 'Utterly Butterly Delicious.' This slogan became an instant sensation and a resounding success.
Behind the creation of the Amul Girl lies an intriguing story. She emerged in response to the advertising efforts of Amul's rival brand, Polson's butter, which featured its own butter-girl character. The inception of this marketing strategy dates back to 1967 when ASP (Advertising, Sales, and Promotion) took charge of Amul's brand portfolio, following the transition from the previous agency, FCB Ulka.
Remarkably, the Amul Girl has remained the enduring face of Amul since her inception in 1966, marking her as one of the longest-running advertising campaigns in history. Her timeless appeal and ability to connect with consumers have solidified her status as a cherished cultural icon and a symbol of Amul's enduring commitment to quality and delighting taste buds across generations.
Amul's Digital Marketing Strategy
In an emerging marketing scenario where digital channels have gained paramount importance, Amul has adapted its advertising strategy to embrace the digital sphere. Although its presence in television advertisements may not be as effective as in the past, Amul's digital marketing initiatives have played a significant role in increasing its reach and boosting engagement with consumers across various platforms. The brand has efficiently used various digital marketing channels including social media, email marketing and influencer collaborations to promote its products and connect with its audience in the digital sphere.
1. Social Media Presence:
Amul recognizes the importance of a strong social media presence and has firmly established itself on platforms such as Facebook, Twitter and Instagram. Here, it shares engaging and informative content that not only showcases its wide range of products but also reinforces its brand values. Amul's social media strategy is marked by creative campaigns, exemplified by the widely acclaimed #AmulTopical campaign. These initiatives not only attract consumers but also foster a sense of community and interaction.
2. Email Marketing:
Amul has adopted email marketing as a powerful tool to stay connected with its customer base. The brand regularly sends newsletters and promotional emails to its customers, providing updates on new products, special offers and product launches. Through this channel, Amul ensures that its customers are well-informed about its offerings and remain engaged with the brand.
3. Influencer Marketing:
Recognizing the power of influencer marketing, Amul collaborates with influencers and bloggers to promote its products. This strategic partnership enables Amul to tap into its existing audience of influencers, thereby expanding its reach to new and potentially untapped consumer segments.
In short, Amul's digital marketing strategy represents a visionary approach that has allowed the brand to remain not only relevant but also competitive in a world increasingly driven by digital interactions. By efficiently leveraging the spectrum of digital marketing channels, Amul has expanded its reach, fostered meaningful engagement with its audience and effectively promoted its diverse product portfolio in the digital-first era.
Amul's marketing mix: A dairy giant's winning formula
The marketing mix, often referred to as the 4Ps of marketing, is a strategic combination of elements that businesses control to influence consumer purchasing decisions. Amul, synonymous with premium dairy products like paneer and ice cream, has mastered this concoction to become a household name in India. Let us analyze the marketing mix of Amul:
Product:
Amul is one of India's most diversified dairy brands, offering a wide range of products that outperforms its competitors. The portfolio includes Amul milk, buttermilk, a range of bread spreads (ghee, butter, garlic butter), Amul Dahi (both Mishti Dahi and regular dahi), Amul Chocolate, Amul Paneer (including mozzarella and regular variants), Amul Mithai Mate . Amul Milk Powder, and the ever popular Amul Ice Cream.
While Amul faces competition in every product category, its commitment to quality and taste has set an unsurpassed standard. Amul products like butter, paneer and ice creams are consistently loved for their unmatched quality and taste. The breadth and depth of Amul's product portfolio represents a tremendous competitive advantage.
Price determination:
Amul adopts an economic and cost-effective pricing strategy, often described as penetration pricing. In its early days, Amul entered the Indian market devoid of competitors and established itself across the country with its combination of quality products and accessible prices. Despite the inevitable impact of inflation over the years, Amul has diligently managed to keep its pricing in line with consumer expectations. Today, Amul continues to be the preferred choice for most consumers while maintaining its affordability and reach.
Location and distribution:
Amul's impressive presence extends to every corner of India, courtesy its wide and efficient distribution network. The company's distribution model revolves around bulk procurement of raw materials, primarily milk, from villages and dairy cooperatives. These raw materials are then transported to manufacturing facilities where they are transformed into a wide range of finished products.
Amul's distribution channel consists of various elements including purchasing agents, distributors, dealers and retailers. Amul exclusive showrooms further enhance the reach, providing consumers a one-stop destination for all Amul products. This carefully designed delivery system ensures that Amul products reach homes across the country reliably.
Promotion:-
Amul's iconic and enduring promotional character, the "Amul Girl", remains at the forefront of its marketing efforts. Created by Mr. Eustace Fernandes, this beloved mascot has captured the hearts of Indian families. The Amul Girl not only personifies the joy of butter, but also serves as an insightful commentator on current affairs through Amul's advertisements. These ads are impactful, relevant, and often deliver a poignant message.
Notably, while Amul extensively promotes products like Amul butter and cheese, it chooses a conservative approach while marketing other items. The company's rationale is to preserve margins, and it says it allocates only about 1% of its budget to marketing and advertising. Despite tough competition, Amul's prices remain competitive, which is a testament to its disciplined marketing strategy.
Lastly, Amul's mastery of marketing mix has taken it to the pinnacle of the dairy industry. Its diverse product portfolio, affordable pricing, wide distribution network and creative yet cost-effective promotions through the iconic Amul Girl have not only strengthened its market leadership but also endeared it to the hearts of consumers across India.
Segmentation, Targeting and Positioning (STP) Analysis of Amul
Amul, the brand famous for offering a diverse product range, has effectively leveraged Segmentation, Targeting and Positioning (STP) strategies to become a billion dollar brand. Let us see how Amul has employed these strategies to achieve its remarkable success:
Division:
Customer-based segmentation: Amul has tailored its product offerings to cater to a wide spectrum of customer segments. For example, it targets children with Amul Chocolate and Amul Cool drinks, while Amul Butter and Amul Lite Butter appeal to a wider audience. The product range includes options like Amul Pizza Cheese, Regular Cheese, Cheese Spread, Amul Milk Powder and Nutra Amul. Each product meets specific customer preferences and needs.
Industry-based segmentation: Amul strategically targets various industries in the dairy and food sector. For example, it supplies milk to ice cream makers, and its products find their way into restaurants, food chains, cafes, and coffee shop chains. Additionally, Amul butter, cheese and ghee are staples in Indian homes, bakeries, confectionaries, street vendors and snack shops. This industry-centric approach allows Amul to enter different markets effectively.
Targeting:
Amul has adopted a value for money positioning that appeals to a wide demographic encompassing both urban and rural consumers. By offering easily accessible, affordable and consistently high quality products, Amul successfully targets a wide range of consumers including children, adults and across industries. This inclusive targeting strategy underlines Amul's commitment to serving a diverse customer base.
Positioning:
Amul's position in the market is unquestionably strong. When one thinks of butter, Amul immediately comes to mind, which is a testament to its position as the national butter brand and the preferred choice for consumers. Campaigns such as "The Taste of India" have added an emotional dimension to its marketing, portraying Amul as a family-oriented brand present in every household. Key features such as value for money, quality and wide availability have further strengthened Amul's leading position in the market.
Competitive Advantage of Amul in Marketing:
Established in 1946, Amul has the competitive advantage of being the oldest Indian milk brand in the country. Two key advantages set it apart from competitors:
Supply Chain and Distribution Channel: Amul boasts of an organized and well-established supply chain backed by decades of experience. With over 5 lakh retailers across the country, Amul products are easily available across the country. This wide distribution network is a major obstacle to competition.
Diverse Product Portfolio: Amul's wide range of products is easily available to consumers through retailers and exclusive Amul stores. Analysis of Amul's product portfolio reveals that Amul butter and ice creams are the cornerstone of its brand presence in the market, often considered as cash cows that contribute significantly to its success.
| | | |
| --- | --- | --- |
| Amul Compittors | Notable Products | |
| Mother Dairy | Milk, cheese, butter, yogurt, ice cream | |
| Nestle | Milk, cheese, butter, yogurt, ice cream, baby food | |
| Kwality | Milk, cheese, butter, yogurt, ice cream | |
| Aavin | Milk, cheese, butter, yogurt, ice cream | |
| Paras | Milk, cheese, butter, yogurt, ice cream | |
| Schreiber Dynamix | Milk, cheese, butter, yogurt, ice cream | |
| Mehsana District Cooperative Milk Producers Union | Milk, cheese, butter, yogurt, ice cream | |
| Karnataka Cooperative Milk Producers Federation | Milk, cheese, butter, yogurt, ice cream | |
| Tamilnadu Cooperative Milk Producers Federation | Milk, cheese, butter, yogurt, ice cream | |
| Creamline Dairy Products | Milk, cheese, butter, yogurt, ice cream | |
Final Thoughts
Amul has not only captured the hearts of Indians but continues to do so with its wide product offerings and effective marketing strategies. The brand's unwavering focus on quality, affordability and innovation has led it to establish a dominant presence in the market.
Notably, in 2020, Amul produced over 1500 hours of content with just 1% of its marketing budget, a remarkable feat compared to the huge budgets of companies like Netflix. This achievement underlines Amul's exceptional branding and marketing efforts as well as its unwavering commitment to quality.
In short, Amul's journey to success serves as a fascinating case study in the effective marketing strategies that have established it as one of India's most successful dairy brands.