Flipkart is an e-commerce Indian-based online marketplace, founded in 2007 by two friends Sachin Bansal and Binny Bansal. The fact is that Binny Bansal is a former employee of Amazon. Sachin had referred Binny to Amazon, which till then had been working in the company for more than a year.
When Flipkart was launched, it was initially aimed at selling books before expanding into other product categories such as consumer electronics, fashion, home essentials and groceries, and lifestyle products.
According to Redseer, in October 2023, Flipkart had a 64% market share of India's e-commerce industry.
Flipkart, currently with a strength of 33,000 employees, has 295 million registered users and over 12 million daily visits. Flipkart's technology has enabled it to deliver 8.5 million shipments per month – and that number is increasing year on year.
According to Crunchbase, The total funding amount to be received by Flipkart by 2023 is US$ 12.9 billion.
| Field Name | Data |
| --- | --- |
| Legal name | Flipkart Online Private Limited |
| Industry | Retail, E-commerce |
| Headquarters | Bengaluru, India |
| Founding year | 2007 |
| Founders | Sachin Bansal, Binny Bansal |
| Number of employees | 30,000 |
| Total funding | $12.9 billion |
| Revenue 2023 | 67.4 billion |
Flipkart: Warehousing & Shipments
Logistics is one of the most important aspects of any successful e-commerce platform. Flipkart ships more than 100000 items in a day which makes managing the logistics an overwhelming task for the company.
Also, the cost of delivery is paid by the company itself, making logistics a financially complicated issue. Hence in order to successfully manage the logistics. Flipkart uses its in-house logistics known as eKart" (EKL).
The e-commerce company created E-Cart as a personal brand in April 2009 to serve the B2C side of WS-Retail, Flipkart and currently reaches consumers in around 150 cities.
eKart currently provides services like Delivery Logistics, Reverse Logistics and cash on Delivery. It also provides customer support and technology integration for order tracking, customer notifications, and reporting.
Digital Marketing Strategies
Let's look at how Flipkart used digital marketing to promote its products and services.
Flipkart mostly targets Indians who use the internet and don't have time to visit offline shopping stores. Although its target audience is scattered across different market segments as consumers of all demographic backgrounds can find products of interest to them, 85% of its audience is between the age group of 16 to 55 years.
Search Engine Optimization
If we talk about organic traffic, Flipkart has achieved tremendous results through search engine optimization.

Flipkart is India's largest online retailer and has worked hard to optimise its website for search engines. Flipkart appears in the top 5 results for every product search, and this is possible because Flipkart has invested heavily in SEO.
Social Media Marketing
Flipkart continues to win over the audience on social media, duly manned by celebrity influencers apart from its roster of brand ambassadors from time to time. They often run campaigns for specific sales, opportunities, and brands.
Flipkart gets 79.08% of website visits from Youtube.
From Facebook 7.71%.
3.99% of People prefer to share Flipkart products on WhatsApp with friends and relatives. which is a sign of brand management and trust in Flipkart.
Video Advertisement on YouTube
As the data mentioned above shows that Flipkart gets the most traffic from YouTube. So now have to look at and understand the Flipkart video advertising strategy.
Celebrities Marketing Campaign
Flipkart is known for its collaborations. It also makes particular investments in star power and celebrity marketing. Flipkart keeps on collaborating with various famous personalities year after year.
One of the memorable and recent collaborations was with Ranbir Kapoor and Alia Bhatt on "#IndiaKaFashionCapital".
Television Ads
Flipkart and its subsidiaries – Myntra and PhonePe – have seen a significant increase in their television commercials since August, when they were acquired by US retail giant Walmart. The last time Flipkart launched a branding campaign with the tagline 'Ab Har Vish Hogi Puri' was when it spent massive marketing dollars to create brand awareness.
Affiliate Marketing
Affiliate marketing is commission-based marketing by which a person can earn rewards in the form of commission for marketing the products of another person or company.
Flipkart undertakes the responsibility of marketing its products to third parties known as affiliates and shares a portion of the profit on the sale of the products.
Affiliate programs of e-commerce portals like Flipkart and Amazon are some of the legitimate ways to earn money online in 2022. The Flipkart portal provides almost everything needed for a common man.
From beauty to baby care products to fashion to electronics and from beauty to baby care products, everything can be found on this online portal. All you need is good traffic to your website or blog.
Flipkart vs Amazon
The presence of two of the biggest brands in the Indian market has made the industry highly competitive. Since both have entered the private-label business to increase sales. Both introduced unique features and value-added services and expanded into specific areas to compete with their businesses.
Although Amazon is a world-recognized brand but in India, Flipkart is always 1 step ahead of Amazon.
SWOT Analysis: Flipkart
Strengths
The supply chain
Strong brand value and brand awareness
Advertising and promotion
Strategy acquisition
Weaknesses
late delivery
IT Infrastructure
Business Model of Flipkart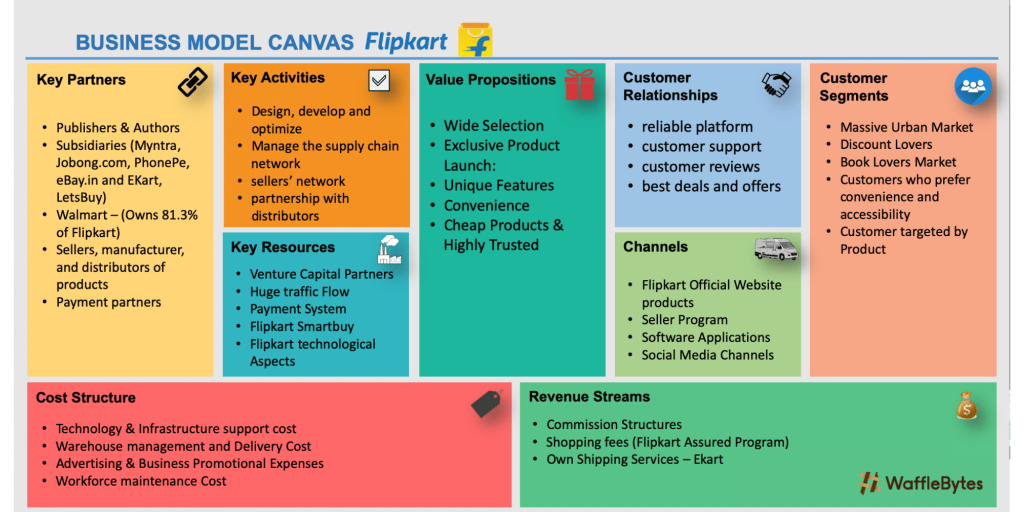 Flipkart, which has redefined shopping in India, operates on a B2C (business-to-consumer model). Flipkart started with a direct-to-consumer model selling books and some other products, before turning to a marketplace model that connects sellers and buyers and expands its catalogue.
Today, it sells everything from smartphones to clothes to furniture to refrigerators to FMCG accessories – and yes, books too.
Flipkart claims to have millions of sellers from across India who list their products in over 80 categories. The average consumer may not care about who the seller is and the relationship he has with Flipkart. Whereas the seller who hasn't exactly reached out to the customer can now do so thanks to Flipkart's platform. To facilitate this transaction and fulfil the order, Flipkart charges different percentages as the commission fees from the seller.
List of Flipkart Subsidiaries
Here is the list of 10 Flipkart subsidiaries with a short description and the date of acquiring these companies.
Myntra – It's another ecommerce online store acquired by Flipkart in May 2014.
PhonePe – is an Indian digital payment and financial technology company that Flipkart acquired in April 2016.
Cleartrip – This is a travel booking search engine globally famous for its incredible service. Flipkart acquired 100 per cent of Cleartrip's shareholding in April 2021.
Flipkart Health – This is an online pharmacy, also known as SastaSundar. Flipkart acquired SastaSundar in December 2021.
Ekart – is a logistics company that delivers 10 million orders per month. Flipkart acquired eKart in 2015.
Shopsy – Like Flipkart, shopsy is another ecommerce platform that Flipkart acquired in July 2021.
Flipkart Wholesale – This platform mainly focuses on B2B, in other words, WS retail. We have yet to learn the old name of this company, but Flipkart acquired it in 2012.
Jeeves-F1 – Jeeves & F1, both part of the Flipkart Group of companies, are among India's most prominent third-party neutral service providers offering comprehensive lifecycle management for various categories, including Mobility Consumer Electronics, Home Appliances, Furniture, IT & IT Peripherals, AV & Enterprise Solutions.
Yaantra – is a single window stopover that caters to all smartphone queries, such as broken glass, water damage, software problem, power issue etc. with the best in the industry services. Flipkart Group acquired electronics ecommerce firm Yaantra in January 2022.
ANS Commerce – is India's #1 full-stack e-commerce enabler helping brands sell online. Flipkart acquired ANS Commerce in June 2022 to strengthen its e-commerce system via technological innovation.
In Conclusion
However, the situation is not as dire as it may seem. Flipkart's magical Bansal touch may have disappeared, but its collective expertise and experience to deal with the Indian audience live on. The quick solution to tackle COVID-19 and offering essential items to the cities by Flipkart is commendable. However, e-retailers should seek to gain their market share by winning the trust of their customers rather than money.
Thanks for visiting Waffle Bytes Blog!