India has seen a spurt in demand for food and grocery delivery, especially during the pandemic. Swiggy and Zomato were a big help. Yet there is always room for improvement, no matter how long you have been in business. So in this case study, we will understand the areas of improvement in Swiggy food delivery service.
In this article, we will take a look at Swiggy's marketing strategies and campaigns through a case study. The success story of this online food ordering app. Who has now even carried groceries – will continue to inspire many startups and future entrepreneurs for years to come.
Startup Journey and Founders of Swiggy
Swiggy is based in Bangalore and has started its humble journey with only twenty-five restaurants and six delivery partners in the city. It was founded by Nandan Reddy, Rahul Jaimani and Sriharsha Majety. Reddy and Majety initially started Bundle, a logistics aggregator company.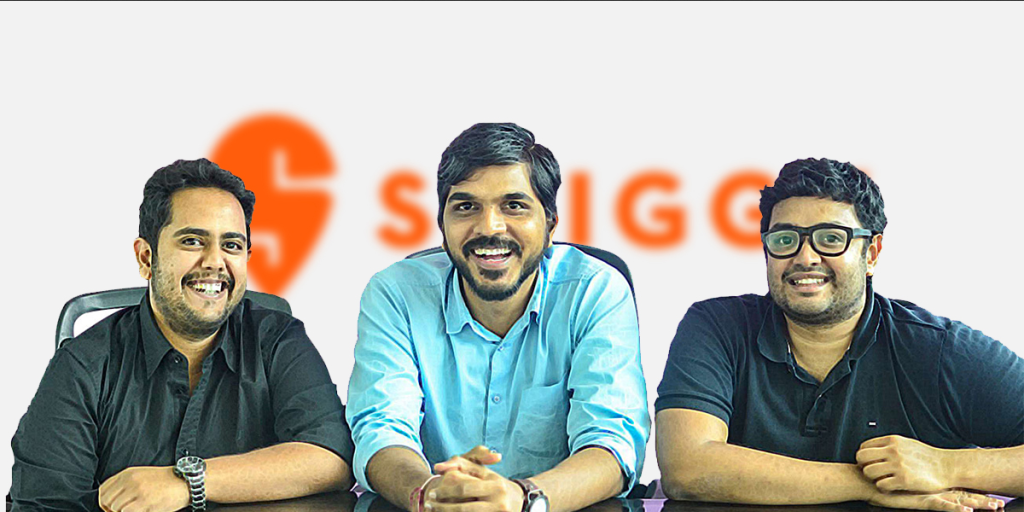 Nevertheless, he soon felt the need for a capable partner to bring quality food to those who 'hang up' and do not want to step outside. Gemini came along, and thus, ladies and gentlemen, Swiggy—the hyperlocal restaurant logistics company—came into existence to fill the invisible gaps between the food ecosystem and, therefore, the Indian restaurant's perennial problem of unavailability of delivery boys.
In simple words, it is your local delivery boy who is bringing you food with an online 'live' tracking system and cannot mislead you that 'they are about to arrive.'
Swiggy Funding Rounds
The online food ordering and the delivery app have come a long way thanks to multiple rounds of funding and backing from well-known global investors. Let's take a look at the money Swiggy has raised over the years:
In May 2017, the company received $80 million in Series E funding.
Prosus Ventures raised $100 million in Series F funding in February 2018.
Prosus Ventures and DST Global raised $210 million in Series G funding in June 2018.
Prosus Ventures raised $1 billion in Series H funding in December 2018.
Falcon Edge Capital and Prosus Ventures will invest $800 million in Series J funding in April 2021.
In July 2021, SoftBank Vision Fund 2, Prosus Ventures and Accel Partners will lead a $1.3 billion funding round.
How did Swiggy become the food delivery giant in India

?

Swiggy is focused on developing a more efficient technology-driven logistics channel along with a dedicated delivery network. If an order is cancelled after it has been placed, the money is still credited to the restaurant. Customers can also cancel an order if it is not delivered within the specified time frame.

Distribution partners have implemented a GPS-enabled strategy that allows for real-time tracking. The company has also worked with the Google Maps API to track the number of their orders and times to provide real-time estimates.

Swiggy is called India's fastest unicorn story by some marketing experts. Its rise has been spectacular. It caught on to Zomato and used technology to revolutionize the food industry.
Marketing Strategies
Swiggy's marketing strategy includes both online and offline advertising campaigns. It spreads its crusades via Facebook, Twitter, YouTube, Pinterest, and Instagram.
Social Media
Swiggy connects with its millennial target audience through social media. He has 304K Instagram followers and regularly posts about food orders on the platform.
It is a mix of entertaining and timely posts. You can also compare and contrast Zomato's digital marketing strategy.
Swiggy, for example, took the mysterious monoliths that were visible across the world and took social media by storm.
It asked its followers to have a sweet Indian sweet that looks like a monolith in December 2020. On Instagram, the post has garnered 9,377 likes.
Swiggy runs campaigns and relies on user-generated content to drive brand awareness.
The #SwiggyVoiceOfHunger challenge was a successful social media campaign in early 2019. Participants had to
use Instagram's voice note feature to receive food vouchers for the entire year. This was announced by the brand on Twitter.
Search Engine Optimization
Whether the brand is global or local, search engine optimization is important. Swiggy has a simple yet beautiful and professional website with a wide variety of food options. We know that on-page and off-page SEO factors are important for ranking high in search engine result pages (SERPs).
Swiggy has an h1 tag, which ideally should be one, and at least one h2 tag, both of which are present on its website. hungry? And order food from nearby favourite restaurants with h1 and h2 tags. In the context of digital marketing, h2 tags are important to better understand the webpage so that Google knows what the page or website is about.
Along with good keyword research, other factors such as alt tags, interlinking and title tags are all well done. Although it lags in terms of quality backlinks, it remains on top. You can also learn why you should build a website in WordPress and create your great website.
Organic Traffic Overview:

Swiggy: Business Model
Swiggy's business model is built around hyperlocal on-demand food delivery. Swiggy uses an innovative technology platform that acts as a single point of contact to connect restaurants and customers.
Their app lets city dwellers order food from nearby restaurants and have it delivered to their door. The app displays a detailed list of restaurants and their menus with prices for you to choose and order from.
Swiggy, in addition to acquiring restaurants, has its fleet of delivery partners. They accept orders from partner restaurants and deliver them in under 30 minutes.
Swiggy's dual partnership model benefits restaurants by allowing them to receive more orders from customers using their Swiggy app.
Process: They will know the order details, generate the order and after placing the order deliver it to the Swiggy drivers. The restaurant saves money and time by not using its delivery personnel.
When an order is placed, all Swiggy drivers in that region receive a broadcast signal on their Swiggy Drive app. They accept the order and deliver it to the doorstep of the customer.
Also, check the Top 12 Food Tech Startups in India